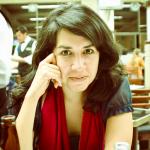 Last Saturday our friends Carlos and Daniela had us over for dinner. After we'd finished Carlos's sublime lime-cucumber-mint-tequila cocktail, and a bottle of muy suave Mexican Sauvignon Blanc, I started hollering about how difficult it is to find great Mexican wine in the stores here.
"You go to a restaurant and have an amazing bottle, and then you leave and you can never find it again. You can't find it anywhere!" I said. "You can't find it anywhere!" (Did I mention that you can't find it anywhere? God. This is when I should probably have stopped drinking wine, and I did, but then we switched to mescal. And then tequila. Eeek.)
Don't get me wrong: You can find Mexican wine in Mexico City. It's just very hard to find the smaller, less-commercialized varieties. Near Reforma where I live, the supermarket sells a handful of big-label brands for around $15 to $35 USD each. La Naval, a high-end liquor store and gourmet deli in Condesa, has a larger selection, but they still tend to concentrate on the Big Mexican Heavies: L.A. Cetto, Domecq, Monte Xanic, Santo Tomás.
Interested? Continue reading the article
here
.